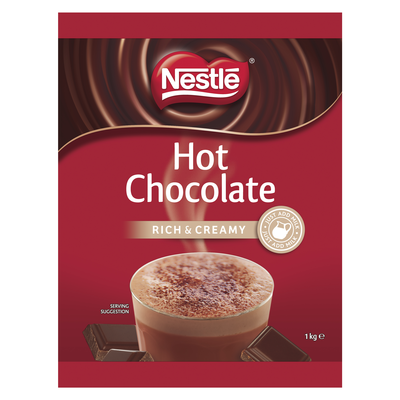 Nutrition Benefit
FROM PROFESSIONAL TO PROFESSIONAL
Professional advice A rich hot chocolate flavour that is a great addition to milk. Serve HOT or COLD. Nutritional benefit Nutritionists recommend replacing full cream milk with reduced fat milk to deliver similar nutrients , but less fat.
Nutrition Table
NESTLÉ Hot Chocolate Rich & Creamy
Servings Per Pack: 90
Serving Size: 11g
Average Quantity per 11g Serving
Average Quantity per 100g
Avg qty per 11g with 200ml Whole milk
%DI per 11g with 200ml Whole milk
Avg qty per 11g with 200ml Reduced fat (1.4%) Milk
%DI per 11g with 200ml Reduced Fat Milk
Average Quantity
per Serving100g
Energy
190 kJ
1730 kJ
770 kJ
610 kJ
Protein
0.5 g
4.8 g
7.5 g
8.1 g
Fat-total
0.4 g
3.2 g
7.3 g
2.8 g
- Saturated
0.2 g
1.7 g
4.7 g
1.8 g
Carbohydrate
9.9 g
90.3 g
22.6 g
22.1 g
- Sugars
8.8 g
80.0 g
21.5 g
21.0 g
Sodium
<5 mg
10 mg
75 mg
80 mg

---

# All values specified are averages
Ingredients
Cane Sugar, Cocoa, Emulsifier (Soy Lecithin), Spice (Cinnamon).
Contains Soy.
May contain Milk.