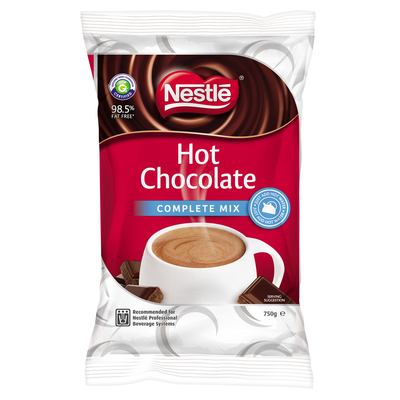 Nutrition Benefit
FROM PROFESSIONAL TO PROFESSIONAL
Professional Advice You can use this pack to refill dispensing and vending equipment.Standard dosage rate is 25g of NESTLÉ Complete Mix hot Chocolate or 3 heaped teaspoons per 175mL hot water. Makes 6L , or 30 cups. Nutritional benefit A great tasting hot chocolate that s 98.5% fat free and low GI*. * When prepared according to directions. GI = 51 (low) The GI is a ranking of carbohydrates according to their effect on blood glucose levels.
Nutrition Table
NESTLÉ Hot Chocolate Complete Mix
Servings Per Pack: 30
Serving Size: 200ml (25g of NESTLÉ Complete Mix Hot Chocolate + 175mL of Water)
Average Quantity
per Serving
%DI*
Per Serving
Average Quantity
per 100ml
Energy
420 kJ
210 kJ
Protein
2.2 g
1.1 g
Fat-total
1.9 g
1.0 g
- Saturated
1.6 g
0.8 g
Carbohydrate
19.1 g
9.6 g
- Sugars
15.0 g
7.5 g
Sodium
115 mg
58 mg

---

# All quantities are averages unless otherwise specified.
Ingredients
Sugar, Milk Solids, Glucose Syrup, Cocoa (10%), Vegetable Oil, Mineral Salt (341), Salt, Stabiliser (340), Emulsifier (471), Flavour (Vanillin Contains Milk), Spice (Cinnamon)
Contains Milk.